Keke Palmer looks absolutely stunning as Cosmopolitan's "Jaugust" cover star.
Even more incredible is the story she shares with Cosmopolitan's Hunter Harris for the July/August 2020 issue — via Zoom, of course.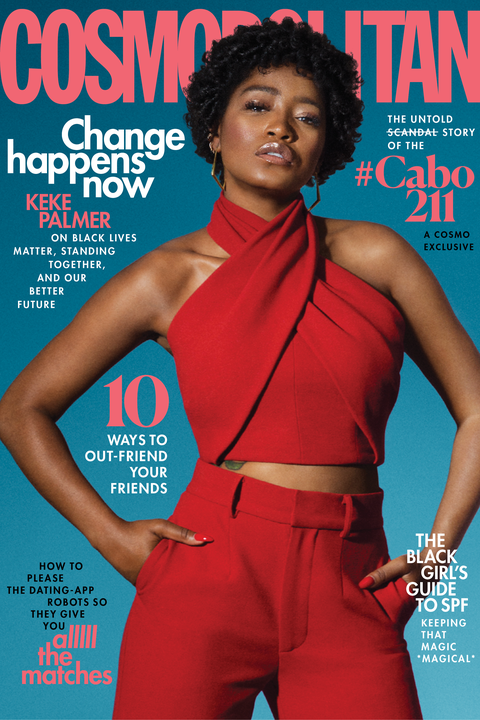 In early June, a video of Palmer went viral over the internet. In the clip, Palmer passionately urged members of the national guard to abandon their posts and march alongside Black Lives Matter protesters.
On the moment she said, "So, we're marching, doing a call-and-response, and we get to this point where we're not able to cross because the National Guard is being told to protect the nearby buildings. To me, it's just such a slap in the face. We're the ones that need to be protected, not the damn buildings! The buildings can be rebuilt."
"At that moment, I felt like, You're human like me. I'm fighting out here, not just for me but for you too, you and the universe. How in control is this system for them to be able to stop y'all from seeing that? Everything I said came out like word vomit. I know I didn't let him get a word in edgewise, but it was because I wanted him to feel me. I wanted to connect to the human, not the suit, not this robot-ass shit."
Palmer also shared her career projects pre-COVID. She said, "Before the pandemic happened, I was supposed to start a movie called Alice. (I think we're going to be able to start shooting in early August.) It's a true story about how a slave owner kept his slaves past slavery's end."
Again, she confirmed the reboot of hit Nickelodeon show, True Jackson. "Look, if my fans ask me for something as far as entertainment, I'm going to make the calls that I need to make to try to give it to them. A True Jackson, VP reboot was as much for them as it was for me."
I know I have a platform, but at the end of the day, I'm not the political person that lives and breathes this day in, day out or an activist that lives and breathes this day in, day out. I don't have all the answers, I just speak to what I believe in. Let's speak our voice. Let's not let up.

Cover Star Keke Palmer on Black Lives Matter, Standing Together, and Our Better Future, Cosmpolitan.com