Bella Hadid has called Instagram out for removing a story including the inside of her father's American passport.
On Tuesday, the 23-year-old model posted in her story a photo of her father's passport with the captions: "I am proud to be Palestinian" and "Everyone should post where their mother and fathers were born today! Remind them how proud you are of where you come from!" Mohamed Hadid is father to model daughters Gigi and Bella, and son Anwar (with ex Yolanda Hadid) and daughters Alana and Marielle (from a previous relationship).
The post was flagged and removed by Instagram for being a violation of their Community Guidelines.
Sharing the screenshot of the message from Instagram, she wrote, "Instagram removed my story that only said 'My baba and his birthplace of Palestine' with a photo of his American passport."
"@instagram exactly what part of me being proud of my fathers birth place of Palestine is 'bullying, harassment, graphic, or sexual nudity'?" she added.
Perceiving the removal as bullying she further stated, "Are we not allowed to be Palestinian on Instagram? This, to me, is bullying."
Her final words on the matter, "You can't erase history by silencing people. It doesn't work like that,"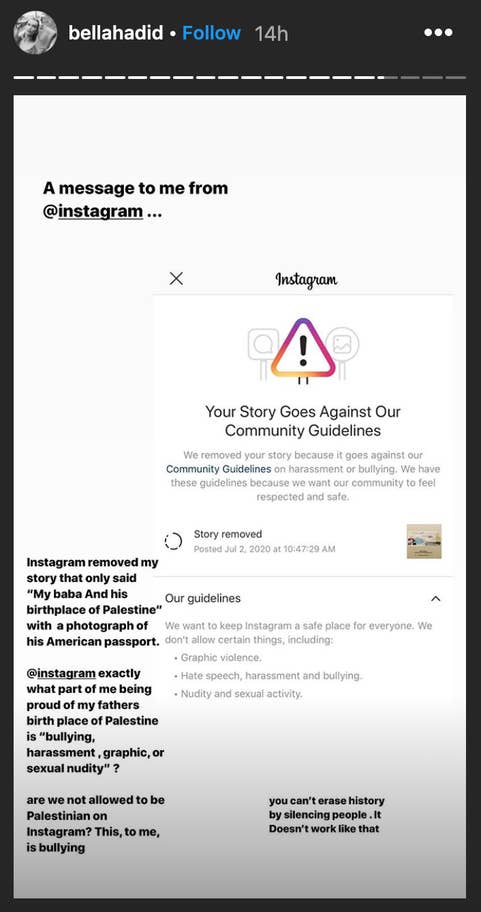 Hadid reposted the passport story to her profile which hasn't been removed.
Support is pouring in from fans for Hadid as Instagram's action is criticised and rebuked.